FTMO is a prop firm that provides funding and mentorship to traders.
The company was founded in 2014 by three professional traders with over 20 years of experience trading the markets.
FTMO offers two programs: the Challenge Program and the Elite Program.
The Challenge Program is designed for beginning or intermediate-level traders who want to learn how to trade like a professional. The program includes access to education resources and funding for live trading accounts. Once a trader completes the challenge, they are eligible for an account with up to $1 million in the capital at FTMO.
The Elite Program is designed for experienced traders with a successful track record trading their own accounts. Traders in this program can receive up to $5 million in funding from FTMO and access to exclusive educational resources and events.
What Are the Steps to Manage Capital in FTMO?
Traders must go through two stages before getting funded with FTMO:
• Challenge (Minimum ten trading days)
• Verification (Minimum ten trading days)
The FTMO trading challenge is a competition that allows traders to earn their way into a prop trading firm. The challenge consists of two stages: the challenge and the verification stage. In order to complete the stages, traders must pass an evaluation process that includes both theoretical and practical components and show consistent profitability over a while.
FTMO provides a new one for free if the overall balance of the account is positive and the trader does not violate any rules during the first phase of the challenge. The number of requirements in the second phase are reduced in contrast with the first one.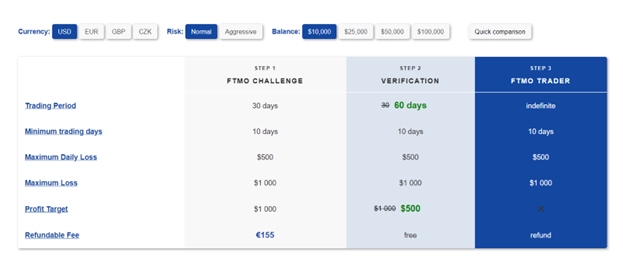 Challenge and verification stage at FTMO.
The minimum trading period is ten days, and you must make a 10 percent profit with a similar maximum drawdown value to pass the challenge phase. You will be immediately disqualified if you violate any of FTMO's rules. Pass the two steps, and the challenge fee will be reimbursed with the first withdrawal. The company has recently increased its overall profit share, which ranges between 80-90%.
The client area at FTMO hosts all the necessary information on the current active portfolios, demo accounts, and challenges. The trial option is only available for 14 days as of now. Traders can adjust the leverage on their portfolio and choose between the day or swing trading account options.
As an astute prop firm FTMO offers an account matrix to traders where they can observe vital statistics. They also offer trading psychology to remove all the mental hurdles one may face while trading. FTMO leaderboard shows all the leading traders for different equities.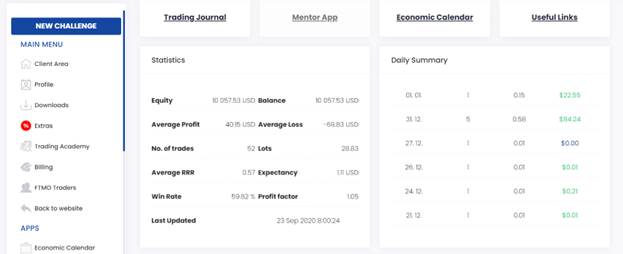 The account matrix of FTMO holds all the important details a trader requires.
The other available applications include:
The economic calendar. Holds the key information on all the financial events.
Equity simulator. A simple tool that calculates the risk-reward and winning rate required to stay profitable.
Time zone converter. One of the most important tools to observe the timings when the drawdown limits reset.
The time frame table contrasts the difference at FTMO and GMT +3.
Various webinars, videos and educational content are available at FTMO to help traders with their market knowledge. There is a direct relationship between the profitability of prop firms and trader's success. Due to this, most companies will spend a huge sum on the best market education.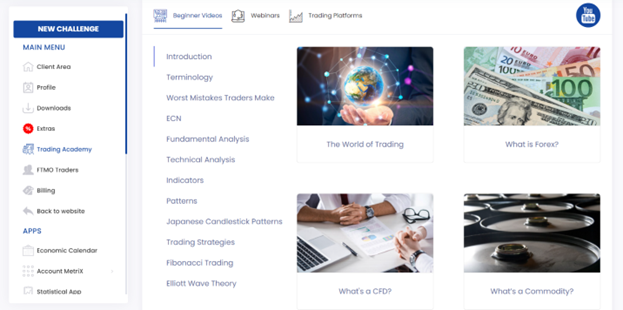 A wide variety of educational content is available at FTMO.
What else should you know?
FTMO allows traders to scale up their trading capital. The initial equity can be doubled within a span of one year by computing profits.
FTMO offers quality customer support through live chat, phone, and email. All of your inquiries are answered immediately.
My Forex Funds and FTMO are both well-established proprietary trading firms in the forex industry. My Forex Funds, established in 2020, offers traders a wider range of funding options including one-phase evaluation, two-phase evaluation, and direct funding, while FTMO only has a two-phase evaluation. In terms of broker and trading platform, My Forex Funds uses Traders Global Group and offers MetaTrader 4 and MetaTrader 5, while FTMO uses a Tier-1 Liquidity Provider with Direct Market Access and offers MetaTrader 4, MetaTrader 5, and cTrader. Additionally, My Forex Funds has a 4.9/5 rating on Trustpilot with 6,076 reviews, while FTMO has a similar 4.9/5 rating but with 3,055 reviews.
When comparing the two-phase evaluation program of the two firms, My Forex Funds has a phase 1 profit target of 8%, phase 2 profit target of 5%, daily drawdown of 5%, overall drawdown of 12%, leverage of 1:100, and a minimum of 5 calendar days trading. Meanwhile, FTMO has a phase 1 profit target of 10% (normal risk) and 20% (aggressive risk), phase 2 profit target of 5% (normal risk) and 10% (aggressive risk), daily drawdown of 5% (normal risk) and 10% (aggressive risk), and overall drawdown of 10% (normal risk) and 20% (aggressive risk). FTMO also offers a higher profit split of 80-90% compared to 75-85% with My Forex Funds.
FTMO is one of the leading prop firms that left all the previous companies by a big margin in a short period. The firm has won multiple rewards up until now and has tons of positive reviews on various popular forums.
Copyright © 2022 InvestingSalary, Inc. All rights reserved. IS does not provide any investment advice.
SEE WHAT IS HOT IN THE ETFs