US Dollar Index (DX) Futures Technical Analysis – Upward Trend on Higher Rate Hike Expectations
The main trend for the March US Dollar Index is now up.
The pivot at 101.730 is now new support, with the next target being a 50% level at 103.090.
Trader reaction to the pivot at 101.730 will determine the direction of the index into the close on Friday.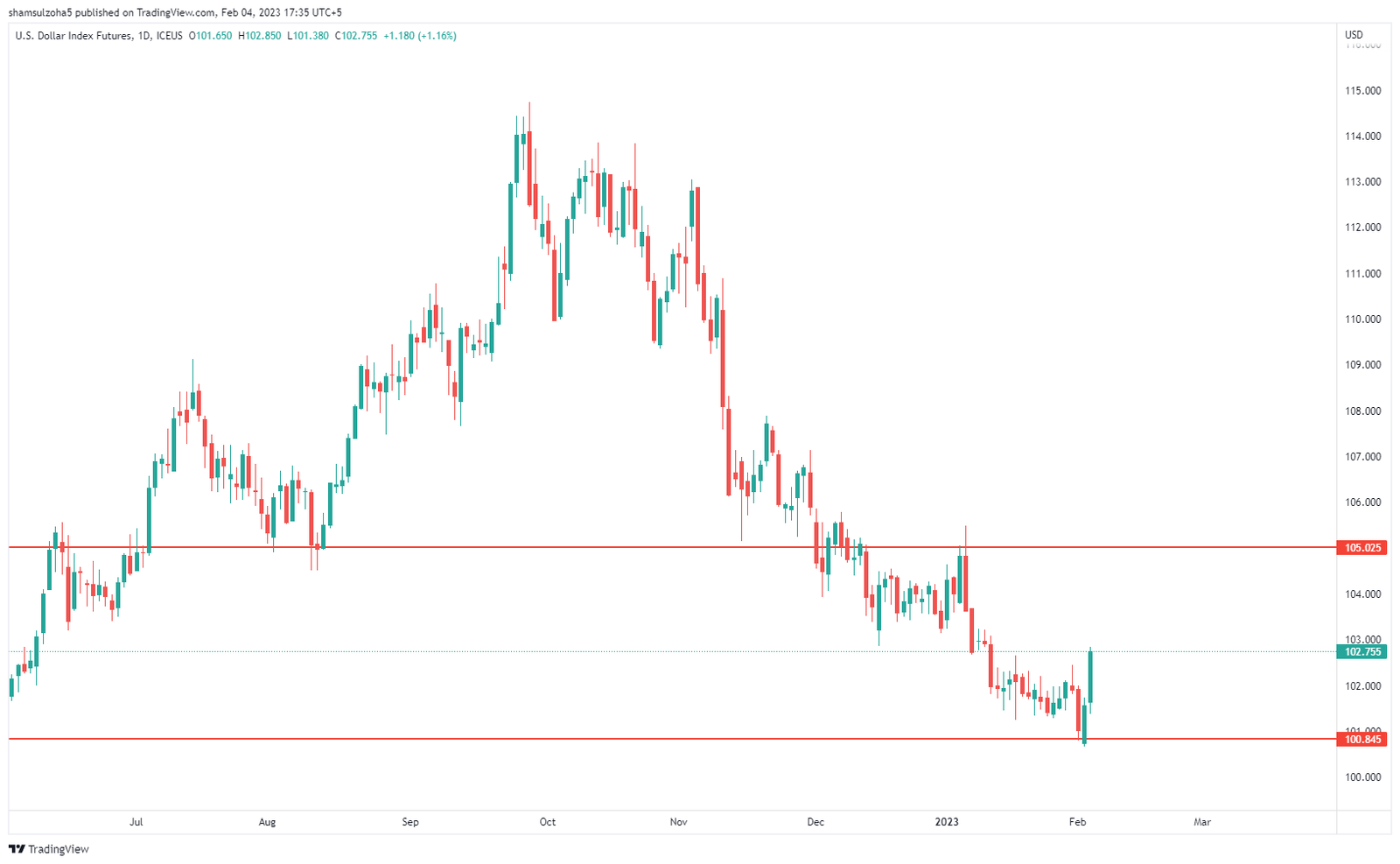 The US Dollar is on the rise against a basket of major currencies, following the release of jobs data which came in much stronger than expected. Nonfarm payrolls increased by 517,000 in January, much higher than the 187,000 additions estimated by Dow Jones, while the unemployment rate dropped to 3.4%. This has led to an increase in expectations for the Federal Reserve's policy rate, with traders now pricing in a peak of 5.03% in June, up from 4.88% the previous day.
According to the daily March US Dollar Index technical analysis, the main trend is now up. The trend turned bullish after buyers took out the last main top at 102.655. The pivot at 101.730 is now new support, and the next upside target is a 50% level at 103.090, with the major resistance being at the long-term Fibonacci level of 103.664
Trader reaction to the minor pivot at 101.730 is expected to determine the direction of the US Dollar Index into the close on Friday. A sustained move over 101.730 will signal the presence of buyers, potentially leading to a late session surge into the 50% level at 103.090, followed by 103.664. On the other hand, a sustained move under 101.730 would indicate the presence of sellers and could result in the index closing lower for the session.
The recent strength in the US Dollar and the upward trend in the US Dollar Index are a reflection of the higher rate hike expectations following the release of the stronger-than-expected jobs data.
Copyright © 2023 InvestingSalary. All rights reserved. IS does not provide any investment advice.
SEE WHAT IS HOT IN THE COMMODITIES
Investing Salary provides free access to quality, truthful news for everyone, believing that information should be equally accessible. We hope that this will enable more people to stay informed about current events, understand their effects, and be motivated to take action.
If you feel that we have helped you get the right market knowledge please consider supporting us through Patreon. Even a single dollar counts.