FxPro is a well-known brokerage company in the UK that offers CFD and Spread Betting services to traders globally. Founded in 2006, the company has executed more than 455 million orders and is considered one of the top service providers in the industry. FxPro operates in 173 countries and boasts more than 1,866,000 client accounts and €100 million of Tier 1 capital. It is regulated by the FCA, CySEC, FSCA, and SCB, ensuring the safety and security of its clients' funds.
The company offers demo trading accounts and free educational tutorials for new traders, making it an excellent choice for beginners looking to learn about the trading world. FxPro's trading platform operates in over 170 countries, and its head office is located in London, UK. It offers a wide range of instruments to trade, including FX pairs, indices, futures, and metals, among others.
With its reputation for being trustworthy and reliable, FxPro has earned the title of the UK's most trusted Forex brand by Global Brands Magazine in 2017, making it a popular choice for traders looking for a safe and secure trading environment.
| | |
| --- | --- |
| Regulations | Cyprus, UK, South Africa and Bahamas |
| Min Deposit | $100 |
| Inactivity fee | Yes |
| Withdrawal fee | $0 |
| Trading fee | Medium |
| Time to open an account | 1 day |
| Number of available base currencies | 8 |
| Demo accounts | Available |
| Max leverage | 1:200 |
Pros

Cons

Negative balance protection
Few forex and CFD instruments
Heavily regulated broker
High minimum deposit of $100
Client's fund insurance
FxPro offers different trading fees depending on the platform used. The cTrader platform has commission-based pricing, with an effective spread of approximately 1.27 pips for trading the EUR/USD pair. This figure includes FxPro's average spread of 0.37 pips and a commission-equivalent of 0.9 pips.
For the MT4 and MT5 platforms, FxPro offers floating-rate (variable spread) models, with EUR/USD spreads of 1.58 for accounts on market execution (1.51 pips on MT5) and 1.71 for accounts with instant execution. However, MT5 does not offer fixed pricing, and only market execution is available.
| | FxPro | Pepperstone | IG |
| --- | --- | --- | --- |
| ECN commission | $3.50 commission per lot per trade | $3.50 commission per lot per trade | $3.00 commission per lot per trade |
| EURUSD Spread | 1.2 | 0.8 | 1.04 |
| GBPUSD Spread | 1.7 | 0.4 | 1.83 |
| AUDUSD Spread | 2.2 | 0.2 | 1.07 |
| S&P 500 CFD Spread | 0.3 | 0.4 | 0.5 |
| Apple CFDs | $1.8 | $3 | $0.02 cents/share |
FxPro charges an inactivity fee if you do not make any trades within 12 months. The inactivity fee is $15 and followed by a $5 monthly fee. This fee is applicable to all accounts registered in the CySec jurisdiction. FxPro does not charge any deposit or withdrawal fees, so you can make transfers to and from your account without any additional costs.
Opening an account with FxPro is a simple and straightforward process. The entire process is digital, making it easy and convenient for users.
FxPro offers a range of account types to suit different traders' needs. These account types differ in pricing, trading platform, and execution.
The FxPro Platform account has a floating spread and no commission, and trades are executed through FxPro's own trading platform using market execution.
Similarly, the MT4 account has a floating spread, no commission, and trades are executed through the popular MetaTrader 4 platform using market execution.
The MT4 Instant account also has a floating spread and no commission, but trades are executed using instant execution, which means orders are filled at the price currently available in the quote flow.
The MT4 Fixed account, on the other hand, has a fixed spread and no commission, and trades are executed using instant execution.
The MT5 account also has a floating spread and no commission, and trades are executed using market execution through the MetaTrader 5 platform.
For those who prefer to trade using the cTrader platform, FxPro offers the cTrader account. This account features floating spreads and a commission of $4.5 per lot round turn, which means both the opening and closing of the position are charged. Trades are executed using market execution.
Finally, FxPro offers a VIP account for clients with an account balance of at least $50,000 or equivalent. This account offers a range of benefits, including reduced pricing and a free Virtual Private Server service.
The account opening process is fully digital, and you can fill out the application form in just 10 minutes. Once you have submitted the application form, FxPro will verify your account, and it typically takes two hours to complete the verification process.
In addition, FxPro offers support for multiple languages, including Arabic, Chinese, Czech, French, German, Indonesian, Italian, Japanese, Korean, Polish, Portuguese, Russian, Spanish, Thai, and Vietnamese. Overall, opening an account with FxPro is a straightforward and hassle-free process that can be completed quickly and easily online.
The steps can be listed as follows:

Begin by providing basic personal details such as your country of residence, name, email address, and a password of your choice.
Enter additional personal information including your nationality, date of birth, phone number, and residential address.
Provide employment information, including your employment status, industry, and level of education.
Disclose your financial information, such as your annual income, net worth, and source of wealth, as well as your reason for opening an account.
Answer questions about your trading experience and financial knowledge.
Choose a trading platform from the options available (MT4, MT5, FxPro Edge, or cTrader), select your default leverage and base currency, and choose your preferred email language.
Verify your identity and residency by uploading a copy of your national ID, passport, or driver's license. Take a selfie to confirm your identity, and provide proof of residency such as utility bills or bank statements issued within the past six months.
FxPro offers 8 base currencies for customers to choose from: EUR, USD, GBP, AUD, CHF, JPY, PLN and ZAR.
FxPro offers a variety of deposit options that are free of charge. In addition to bank transfers and credit/debit cards, the broker also accepts electronic wallets such as PayPal, Skrill, Neteller, and UnionPay. However, it's worth noting that electronic wallets are not available for clients based in the UK.
Deposits made via credit/debit cards are instant, while bank transfers may take several business days to reflect in your account. It's important to note that FxPro only accepts deposits from accounts that are in your name, in order to prevent fraud and money laundering.
FxPro offers a range of withdrawal options to suit traders' needs, including Wire Transfer, Credit Cards – Visa, Maestro, MasterCard, American Express, and e-Wallets such as Paypal, Skrill, Neteller, and UnionPay. Funds withdrawn to electronic systems are credited instantly, while Visa and MasterCard bank cards can take up to 6 business days. There is no withdrawal commission.
FxPro also provides a secure and reliable withdrawal process, ensuring that all funds are transferred safely and securely. To avoid fraud, money can only be withdrawn to accounts in your name. This is in line with regulations imposed by the regulators.
For traders who need to access funds without trading, FxPro charges a 2.6% withdrawal fee to cover the withdrawal processing cost.
The FxPro web trading platform offers traders great customizability options, allowing for easy adjustments to the size and position of tabs on the platform. However, its design and overall user experience feel outdated, and some features can be challenging to find, such as adding assets to the watchlist.
Traders can use all the basic order types, such as market, limit, and stop orders, but more advanced order types like 'one cancels the other' are not available. Trailing stop is only available on the MT4 desktop platform. The platform also offers different order time limits, including Good 'til Canceled (GTC) and Good 'til Time (GTT).
One advantage of the FxPro MT4 web trading platform is the clear fee report it provides, allowing traders to easily track their expenses. However, the platform lacks price alerts, which could be a disadvantage for some traders.
It's worth noting that the platform doesn't offer two-step login, which some traders might see as a security concern. On the other hand, the platform does provide order confirmation, which can help prevent costly mistakes.
FxPro's mobile trading platform, particularly the MT4 version, is a great option for traders who prefer to trade on-the-go. The platform is well-designed and user-friendly, with a good search function that makes it easy to find all the necessary features.
While the platform offers two-step login for added security, it does not support Touch/Face ID login, which could be a drawback for some users who prefer this type of authentication.
The mobile platform offers the same order types and time limits as the web trading platform, giving traders the flexibility to manage their trades from their mobile device. However, the platform does not offer order confirmation, which could be a disadvantage for some traders.
FxPro's desktop trading platform is available in both cTrader and MetaTrader versions. We tested the MetaTrader 4 (MT4) version. The platform has a similar design and functionality to the web trading platform, with good customizability options for charts and workspace. However, the design is outdated and could use some improvement.
One benefit of the desktop platform is that it allows traders to set price alerts, which is not possible on the web trading platform. Additionally, investors can receive notifications through mobile push or email, which can be set up by adding their email address and MetaQuotes ID in the platform's settings.
The platform offers the same order types and search functions as the web trading platform, with the addition of Trailing Stop order type. The portfolio and fee reports are also clear and easy to understand. However, the desktop platform does not offer two-step authentication, which could be a disadvantage for traders concerned about security.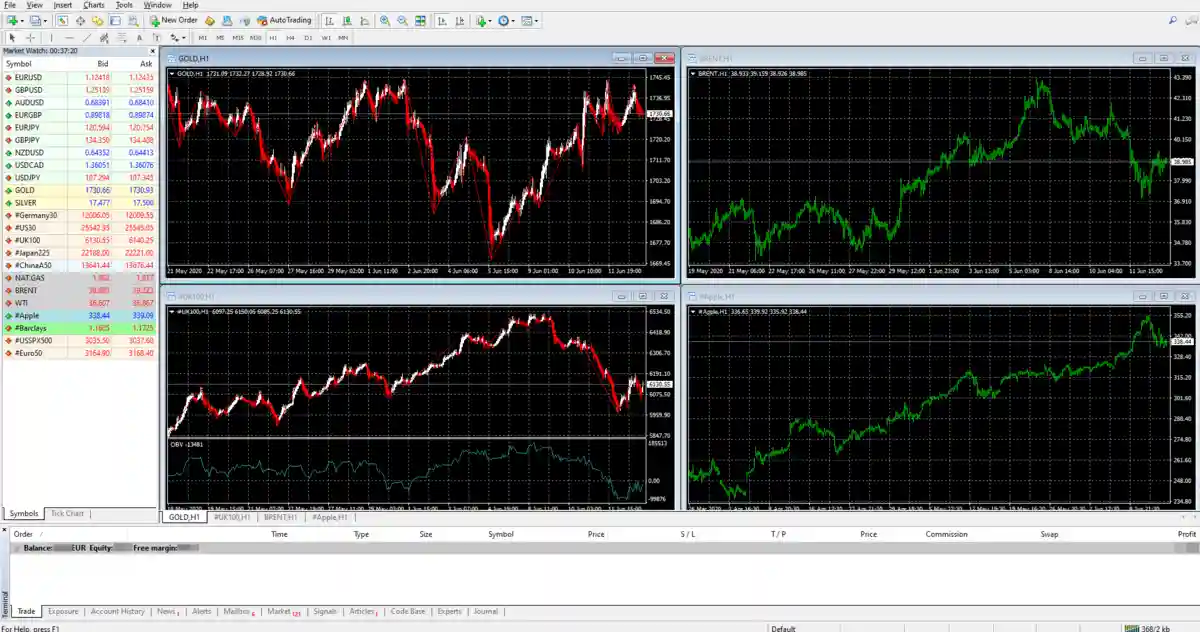 FxPro desktop trading platform.
FxPro offers a wide range of financial instruments for trading, including 70 currency pairs, 29 stock index CFDs, over 1,700 stock CFDs, 15 commodity CFDs, and 30 cryptocurrencies (depending on the client's IP address).
| | FxPro | Pepperstone |
| --- | --- | --- |
| Currency pairs | 70 | 62 |
| Stock CFDs | 1700 | 1400 |
| Stock Index CFDs | 29 | 25 |
| Commodity CFDs | 15 | 32 |
| ETF CFDs | 0 | 110 |
| Cryptos | 30 | 21 |
Currently FxPro offers no information on the copy trading program at their website.
FxPro's customer service is fast, multilingual, and provides relevant answers to customers. They can be contacted through various channels including live chat, requesting a call back on the website, and email. They provide customer support in many languages, making it easy for customers to communicate with them in their preferred language. The only drawback is that their is no support during weekends.

Support options at FxPro.
FxPro offers several resources to help traders learn about forex trading. They offer a demo account for traders to practice trading strategies and get a feel for the platform without risking real money.
In terms of educational materials, the brokerage provides platform tutorial videos for their proprietary platform and educational videos covering general forex trading concepts. These videos can be found on their YouTube channel.
Additionally, FxPro offers written educational materials, including basic online forex courses with self-evaluation tests, as well as a guide to technical analysis provided by Trading Central. However, the broker does not currently offer webinars for forex education.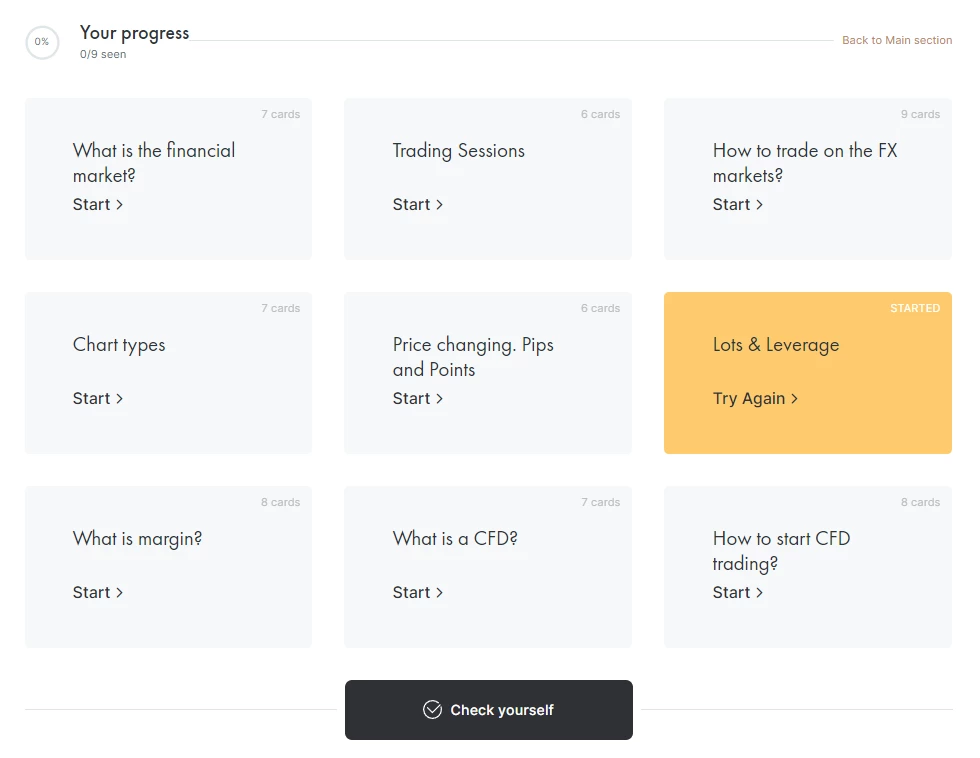 The broker is regulated by three financial authorities globally, including the top-tier Financial Conduct Authority (FCA) in the UK, which is known for its stringent regulatory standards. The FCA enforces rules and regulations that ensure fair and transparent trading practices, protect clients' funds, and provide negative balance protection to retail clients. FxPro's registration with the FCA indicates that it has met the FCA's rigorous requirements for financial stability, risk management, and client protection.
In addition to the FCA, FxPro is also regulated by the Cyprus Securities and Exchange Commission (CySEC) and the Securities Commission of the Bahamas. The broker's subsidiary, FxPro Financial Services Ltd, is authorized by the South African Financial Sector Conduct Authority (FSCA) to provide services to clients in South Africa. The multiple regulatory licenses FxPro holds indicate its commitment to meeting regulatory requirements and providing clients with a safe and secure trading environment.
Despite FxPro's solid regulatory status, it is important to note that the broker does not hold a banking license, which means that clients' funds are not held in segregated bank accounts. However, FxPro offers negative balance protection to its clients, which means that traders cannot lose more than their account balance, even in extreme market conditions.
Another potential drawback of FxPro is that it is not listed on any stock exchange, and financial information is not publicly available. This lack of transparency may be a concern for some traders who prefer to have access to financial information when choosing a broker.
FxPro is a well-established brokerage company that has been operating for over a decade, with a solid reputation for trustworthiness and reliability in the industry. Its multi-regulatory status and Tier 1 capital ensure the safety and security of its clients' funds. The broker offers a wide range of instruments to trade and a user-friendly trading platform, making it a popular choice for both novice and experienced traders. Its commitment to education, with free tutorials and demo accounts, demonstrates its dedication to helping traders learn and grow their skills.